The CXC has been designed to only play: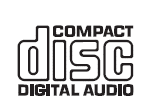 Please note: Any CD-R/CD-RW discs should contain properly recorded TOC (Table of Contents) information so that they can be played back.
The CXC can play only the discs recorded in the CD-DA format designed for music reproduction. Do not attempt to play a disc containing other data, such as a CD-ROM for PC's with MP3 or WMA files.
It is not possible to play SACD, MP3 or WMA discs on the CXC. The CXC uses the same S3 servo as our Azur CD players and is optimised for CD playback only.